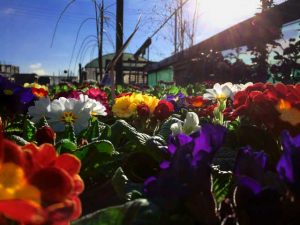 We work with the seasons and offer our customers the best we can whenever we can.
Welcome to our 9th season at the nursery. 2017 has proven quite challenging already, but with new polytunnel covers we managed to survive Doris and are now open everyday until the end of October.
We have been busy making repairs and growing lots of new varieties of perennials and vegetables. We hope you will enjoy our classic and new selection of plants which are now all out and ready for planting. Vegetable plants will be available from the end of March and our selection of Summer Bedding will be out on display as soon as the weather warms up.
We have a great selection of growing media – not forgetting that all compost products we sell are also what we use in growing our seeds and plants.
We look forward to seeing you at the nursery!
Mick, Dani, Ian & Karen
Share