"A lovely garden attracts the eye,
Admired and envied by passers-by.
There are Achillea, Phlox and Lobelia,
Clematis, Jasmine and Abelia,
Echinacea, Osmanthus, Miscanthus,
Campanula and Dianthus.
A tired gardener may think, from his patio seat:
"Well worth the toil to give the soul a treat."
Consider the gift Mother Nature has given;
Such beauty, yearly, the passion has driven."
Welcome to the first,  well overdue update for July. Life at the nursery is never dull and we are always busy preparing and bringing out new stock which at the moment is looking particularly good.
We have baskets, perennials, vegetables and still some bedding plants.
Perennials
Tall, bursting with root and awaiting a new home – Japanese Anenomes are full of bud (though early!) Stem after stem of amazing shapes and colours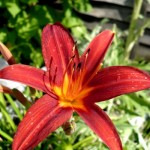 Hemerocallis (Day Lillies) are looking the best they ever have!
The best daisy in the world – Leucanthemum x superbum – pure, white and just a delight!
Bedding
Summer – All priced @ £1.00 or 50p
Baskets
Still bursting with colour and filled with a feed that will last the
season – Begonia Baskets are HUGE!
Vegetable Plants
Winter Veg coming through – 4 varieties of Cabbage, Cauliflower, Pak
Choi, Celery, Borecole, Kale, Brussels, Purple Sprouting Broccoli & last
sowing of Lettuce.
CHILLI PLANTS – Showing fruit. Got an interesting variety!
Mick says..
Tidy your borders by cutting back perennials that have started to fade and dead head any bedding and repeat-flowering perennials to encourage flowering. Also trim your baskets to encourage new flowers.
Keep your eyes open for clematis wilt!
Share