Happy Sunny Still Days!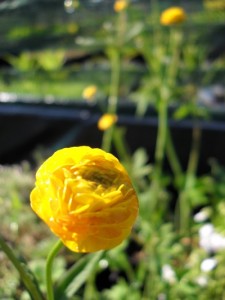 We are half way through May already! Mick will be holding a stall at the Shires Plant fair in West Bridgford this Saturday. Ian has picked out a nice range of plants in flower for Mick to take along. Weather also looking fine! Don't forget, if you can't find what you are looking for ask Mick and he will be able to advise.
Bedding plants are all showing bloom now – time to colour co-ordinate your baskets, tubs and borders!
There are still plenty of perennials to choose from and more varieties will be coming out onto the nursery every week. The Aquilegia, Verbascum, Ranunculus and Salvia are dancing in the blue skies; whilst the the Lavender is about to bloom and looking lush!
Oh and Lavenders are all £4.50 each – we've still got about 6 varieties to choose from.
We still have plenty of veg plants to choose from so now is the perfect time to stock up.
Mick says ..
Tie in young delphinium growth to plant supports. Once flowered you can start looking at pruning spring flowering shrubs.
Don't forget to mulch!
Share