Small and Independent
Ashdale is a small, independent, established working nursery, which specialises in garden plants and unusual hardy perennials.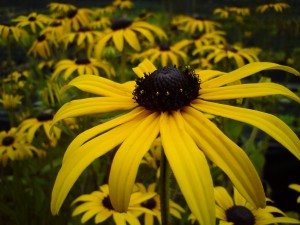 Ashdale Nursery is run by Mick and Dani. We take the time to care and we love what we do. We are one of the largest specialist nurseries of our kind within the Nottinghamshire area, and all our plants are allowed to grow and are nurtured on site. Ashdale has a significant and expansive range of perennial plants to excite even the most professional of gardeners. It also has the most beautiful flowering exhibits to encourage newcomers to gardening.
We offer any help or guidance that may be required.
We work with the seasons and offer our customers the best we can whenever we can.
Autumn 2015
November 2015 and another season comes to an end while we wait for winter to approach…
We have had a fab year with lots of positive feedback from both loyal, existing customers and new customers alike. The 'Team', i.e. Ian and Karen (who joined in February) have made a huge difference with all their efforts this year – mainly in keeping Mick and I on the ball!!
The bedding plants and summer baskets were full of persistent bloom; Mick's vegetable plants seem to be gaining a certain reputation amongst allotment holders, exhibitors and anyone else who is 'growing their own', alpines have been very popular this year and the ever increasing perennial selection seems to have appealed to everyone.
We hope that we can carry on providing quality, good selection and helpful advice in 2016. In the meantime, we would like to thank everyone for their support and custom this year.
Mick, Dani, Ian, Karen & Mani
Share